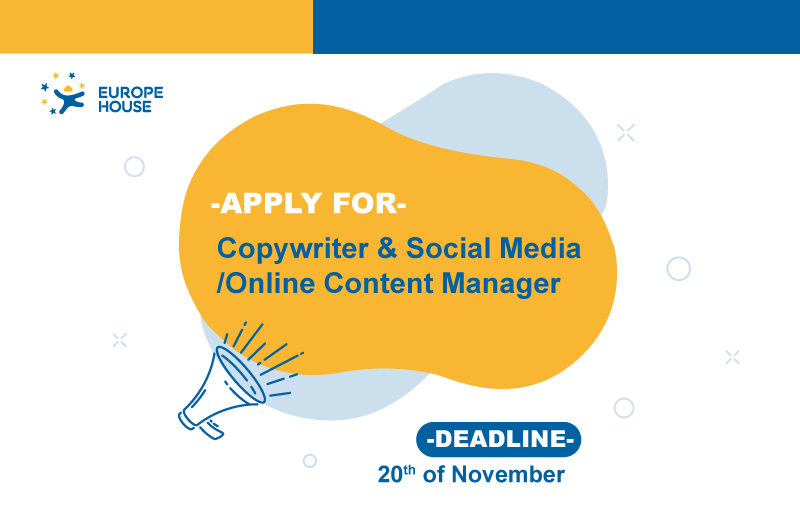 Call for Applications: Copywriter with Social Media/Online Content Management Experience
Call for Applications for the Position of:
Copywriter with Social Media/Online Content Management Experience
Pomilo Blumm srl & Koperativa LLC, renowned communications agencies in Italy and Kosovo respectively, are currently implementing the EU for Kosovo Communication Services, funded by the EU Office in Kosovo. This position requires someone who is self-motivated with a cutting-edge attitude and can balance several tasks, with experience in creative & publication writing and social media / web content management. This workplace offers a vibrant working environment and significant opportunities to learn and grow.
The main goal of the project is to provide information to Kosovo citizens and to specific target groups on the EU, its policies and its programmes as well as to provide assistance to the EU Office in Kosovo to conduct
efficient outreach activities.
Description of the position:
The Copywriter with Social Media/Online Content Management Experience will be responsible for:
Preparing content and updates for the EU Office's online platforms and social media following approval of the content and update by the EU Office;
Developing and implementing strategies to increase the number of followers and engagement in the social media accounts;
Developing and placing content, including text, photo, video, audio, feature stories, etc. on a constant, regular basis, especially for the purposes of media and outreach campaigns;
Drafting the monthly news blog and preparation of user friendly text for display in infographics, leaflets and other promotional material of the Europe Houses;
Researching and drafting the publications to be produced under the contract. The expert must have significant previous experience with digital media and writing copy in professional English.
Qualifications and skills:
A university degree (Bachelor or equivalent) in the field of communications/journalism/literature or social sciences, or five (5) years of professional experience in communication, public relations, journalism or writing/filming/producing;
Proficiency in English is required and working knowledge of local official languages will be considered an advantage.
General professional experience:
At least three (3) years of work experience in communication, public relations, journalism or a related field (in addition to the five years of professional experience which form a substitute for the diploma in case the expert would not have the diploma required under qualifications and skills).
Specific professional experience:
Experience[1] in at least three (3) projects in writing information and visibility materials for the wider public.
Please send a Cover Letter & CV to jobs@europehouse-kosovo.com before the 20th of November.  Only short-listed candidates will be contacted.
[1] Only long term experience of at least 6 months will be counted