Get ready to celebrate Europe Day 2023! On May 9th, we'll be commemorating the Schuman Declaration of 1950 and the solidarity and unity between EU member states. The EU institutions in Kosovo are joining in the festivities with a range of activities that give citizens the chance to discover and experience the European Union.
Throughout the month of May, events with a thematic focus on the European Year of Skills will highlight the importance of skills development and green energy in Kosovo's future. These exciting events will empower young professionals with the skills and resources they need to succeed in today's job market. From panel discussions with top-notch experts to career fairs and networking opportunities, representatives from the EU in Kosovo, EU programmes, EU-funded projects, and local organizations will all be there to support and inspire the next generation of leaders.
Attendees will have the chance to explore a wide range of skills, both traditional and modern, that are in demand in the job market. From painting to sewing and everything in between, they'll learn about projects funded by the EU and its member states that are making a real difference in Kosovo. And for high school and university students, there will be a series of life skills and career-readiness workshops that cover everything from communication and problem-solving to leadership and time-management. Stay updated on all the events happening by following us here.
Coming up on 9 May:
Kicking off the celebrations is an exciting artistic project – "Powering a Brighter Future: A Good Energy Mural." This mural, created by a team of talented artists, aims to raise awareness of renewable energy and its crucial role in building a sustainable future. You'll see large-scale artworks featuring different forms of renewable energy like solar, wind, and hydropower. Not only will this mural add an aesthetic touch to the EU building in Kosovo and the surrounding area, but it will also serve as a symbol of hope for a cleaner and brighter future. Click here.
But that's not all! If you're looking to develop your creative skills and explore your artistic side, don't miss the Street Art Skillz Masterclass. This interactive session will take place both in Prishtina and North Mitrovica simultaneously and will be led by experienced artists. You'll learn about the history and cultural significance of street art while gaining insight into the artistic process of creating your street art pieces. Whether you're a seasoned artist or a beginner, this is a fantastic opportunity to hone your skills and let your creativity shine. Click here.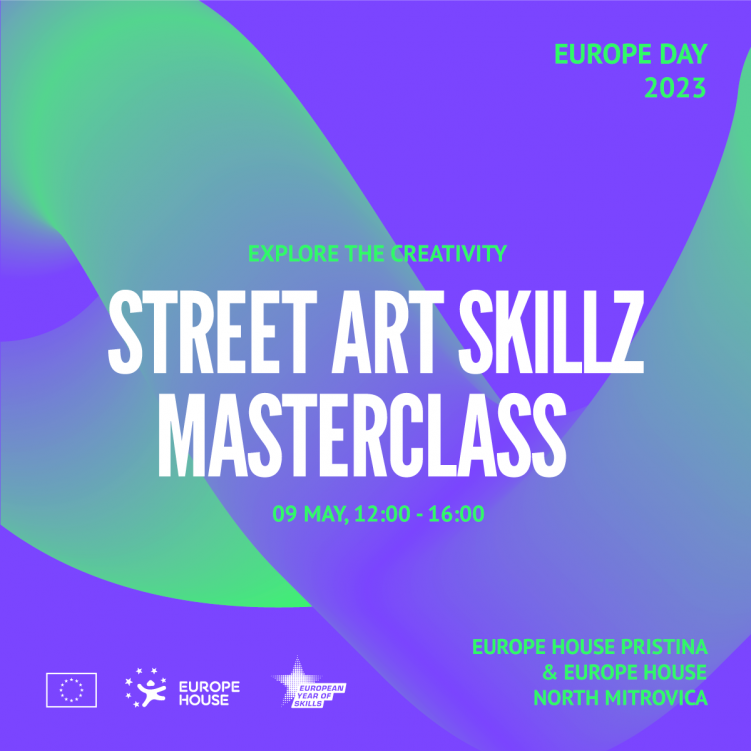 As the day progresses, the celebrations continue with the first from the New Wave series of exhibitions, with the exhibition "Notes: Images" featuring the work of four talented Kosovar artists: Besfort Syla, Arrita Katona, Zana Begolli, and Qazim Gashi. Through their lenses, these artists document subcultures, experiment with the medium of the camera, and push the boundaries of traditional gender roles. The exhibition takes inspiration from Susan Sontag's seminal work "On Photography," exploring the power and limitations of photography as a medium for representing reality. Be sure to stop by and witness how these artists are challenging gender norms through their photography. Click here.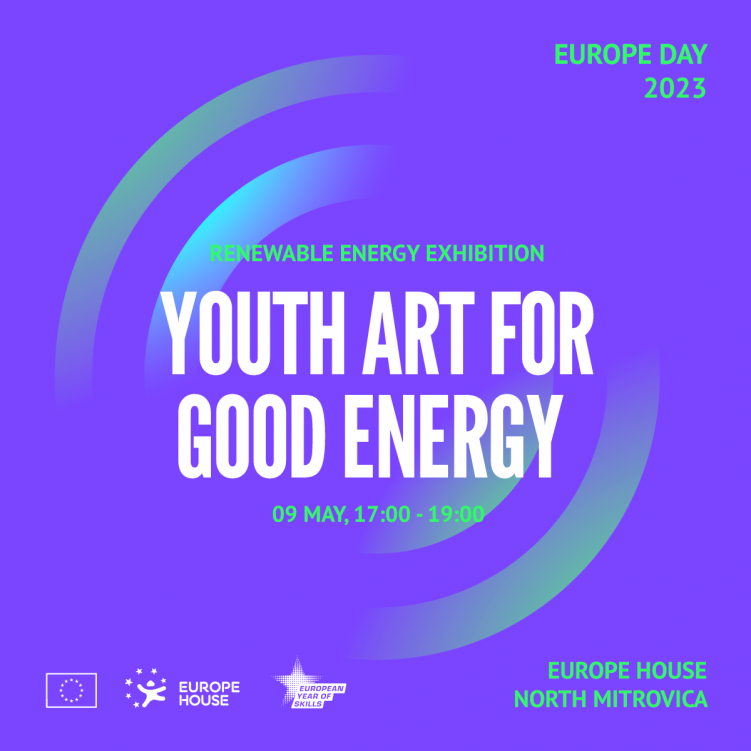 In North Mitrovica, there will be an exhibition called "Youth Art for Good Energy" featuring work by children aged 5 to 13 years. The artwork was created during the recently held workshop "Coloring with Good Energy," organized by the House of Europe in North Mitrovica and the NGO Akvarijum. This exhibition serves as a platform to educate and inspire viewers on the importance of sustainable living and environmental protection as envisioned by young artists. Click here.
At the end of the day, get ready to be swept away by the beautiful music of celebrated pianist and conductor Epifanio Comis at the Chopin and Europe Day Opening Concert, held at the New Amphitheatre of the National Library in Pristina. This special event, organized in cooperation with Europe House, is a tribute to European cultural heritage and a fitting celebration of Europe Day 2023. Click here.
And the best part? The celebration of Europe Day won't end there. Throughout the month, there will be a variety of events across Pristina, Gjakova/Djakovica, Prizren, and North Mitrovica that involve art, skills development, discussions, entertainment, and sports. So mark your calendars, grab your friends and family, and join in the fun!