Between 13-17 January 2020, Europe Union in Kosovo in cooperation with Kino ARMATA is organising the European Film Festival in Pristina.
The film week will open with Croatian film "The Constitution" and close with French film "Bloody Milk".
The entrance is free of charge and everybody is welcome to come and enjoy watching European films at Kino ARMATA this week! All films have English and Albanian subtitles.
See the schedule of films and more information below:
13 January 2020 / at 8pm
THE CONSTITUTION by Rajko Grlic (2016)
Countries: Croatia, Slovenia, United Kingdom, Czech Republic
Main Awards: Montréal World Film Festival award for Best Film, Raindance Film Festival award for Best Film, Best Screenplay, Best Performance
14 January 2020 / at 8pm
RAY & LIZ by Richard Billingham (2018)
Countries: United Kingdom
Main Awards: Locarno International Film Festival: Special Jury Prize, Seville European Film Festival: Grand Jury Award, British Independent Film Awards: Douglas Hickox Award
15 January 2020 / 8pm
KING OF THE BELGIANS by Peter Brosens, Jessica Woodworth (2016)
Countries: Belgium, Netherlands, Bulgaria
Main Awards: Avanca Film Festival Cinema Prize for Best Feature Film, Avanca Film Festival Don Quijote Award, Avanca Film Festival Special Mention for Best Screenplay, Magritte Award for Best Actor, Odessa International Film Festival Grand Prix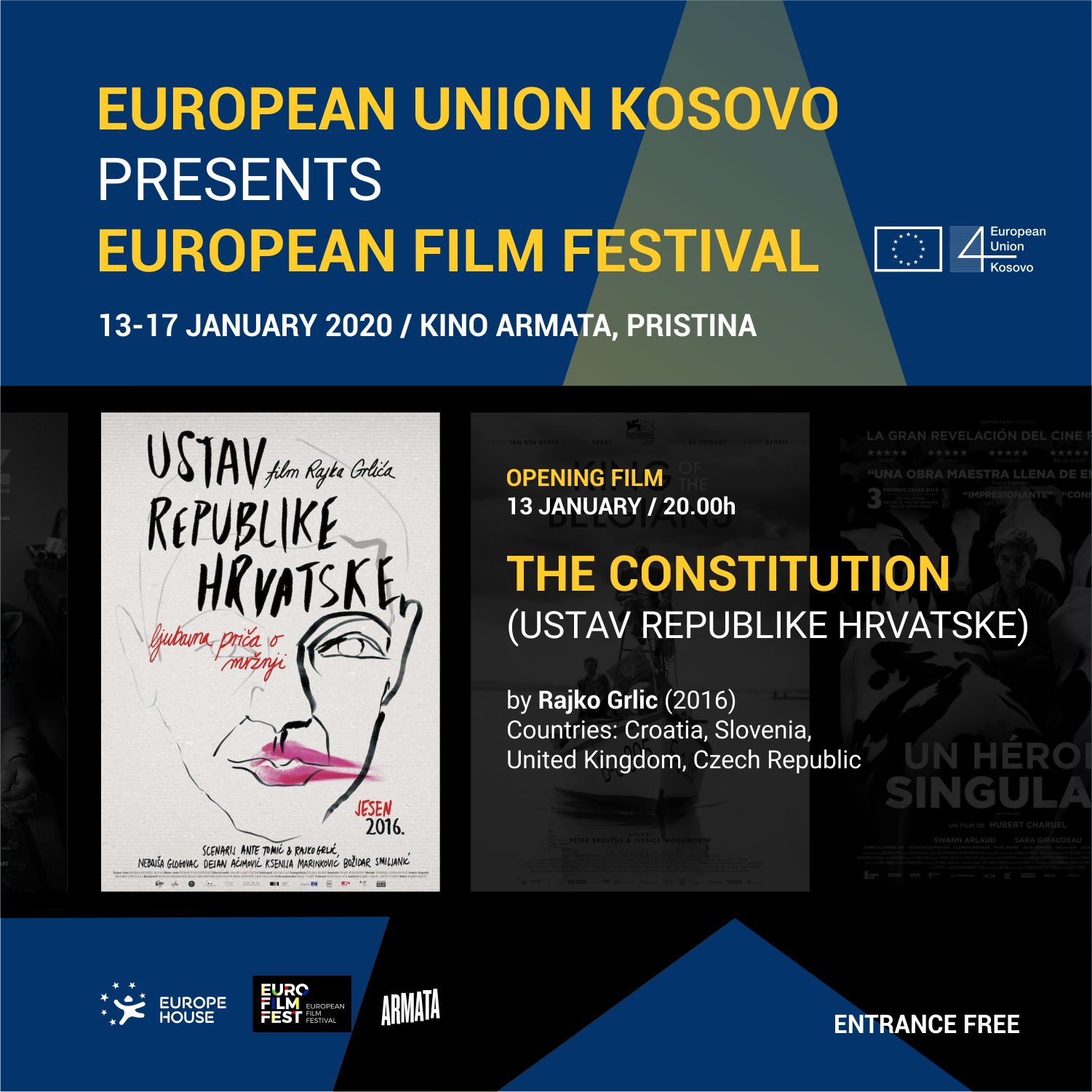 16 January 2020 / 8pm
STRANGER IN PARADISE by Guido Hendrikx (2016)
County: The Netherlands
Main Awards: Amsterdam International Documentary Film Festival Special Jury Award, Madrid International Documentary Film Festival Fugas Feature Film Competition.
17 January 2020 / 8pm
BLOODY MILK (PETIT PAYSAN) by Hubert Charuel (2017)
Countries: France
Main Awards: César Award for Best First Film, César Award for Best Actor, César Award for Best Actress in a Supporting Role