The Head of the EU Office in Kosovo/EU Special Representative, Ambassador Tomáš Szunyog, visited the Kosovo National Football team at the "Fadil Vokrri" Stadium, ahead of the team's qualifying matches for FIFA World Cup 2022. Ambassador Szunyog was received by Mr.Eroll Salihu, General Secretary at Football Federation of Kosova, Head Coach Mr. Bernard Challandes and goalkeeper Samir Ujkani.
In his opening remarks, Ambassador Szunyog, thanked Mr. Ademi and Coach Challandes for their hospitality, and stated that he's very glad to have had the chance to meet the team.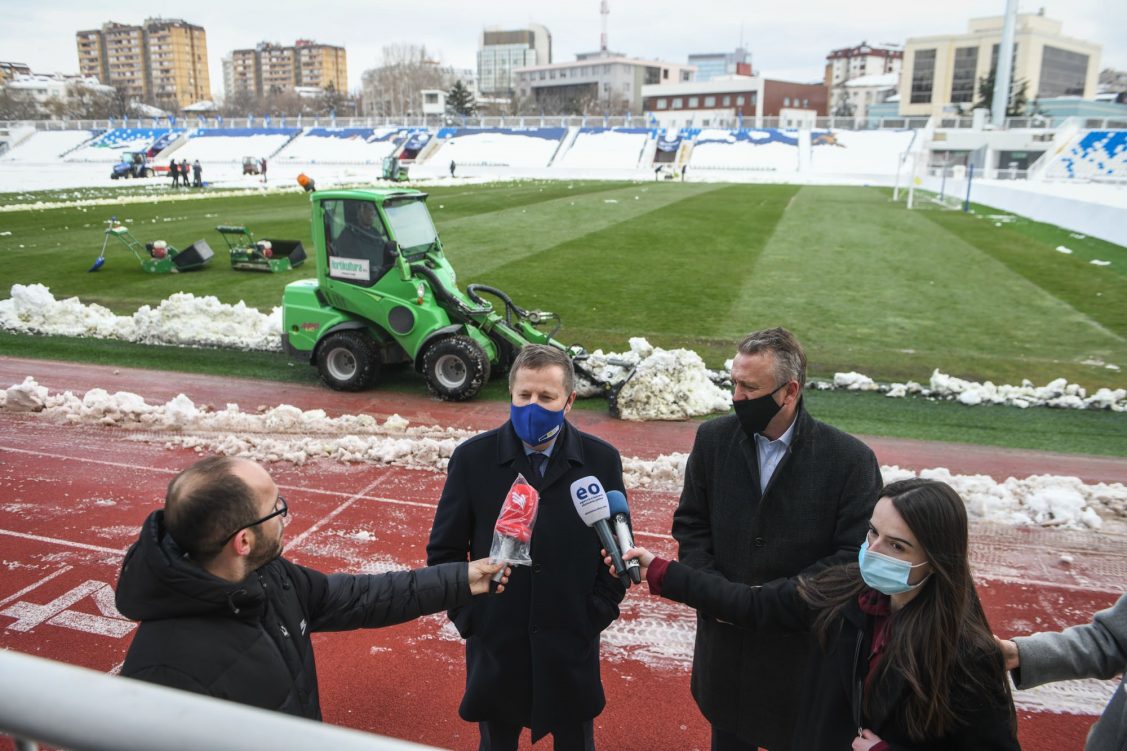 "Ever since I am in Kosovo as HoO/EUSR, I have witnessed the passion and love Kosovo's people have towards the National Football Team, and the positive energy you bring to them. Apart from being a sport that brings joy to all, football should serve as a unification tool to bring communities together, and move societies forward for the greater good. Having one of the youngest populations in Europe, Kosovo sportsmen and sportswomen have already achieved tremendous successes. I would like to highlight that European Union will continue to support and invest in Kosovo's sport through various projects. In the end, I would like to thank you all for your hospitality, and wish the team the best of luck in the upcoming matches."
Bernard Challandes, Head Coach of Kosovo Football team informed the ambassador for the preparations of the Kosovo National Team ahead of the three upcoming matches against Lithuania, Sweden and Spain.
Eroll Salihu, General Secretary at Football Federation of Kosovo informed the Ambassador on the new infrastructure being built such as the new stadium for people with special needs.
Ambassador Szunyog got to meet Kosovo's National Team goalkeeper Samir Ujkani, with whom he discussed the upcoming matches and promised him that together with Kosovo's people he will return to the stadium and watch their matches, as soon as the pandemic eases, and the conditions allow.