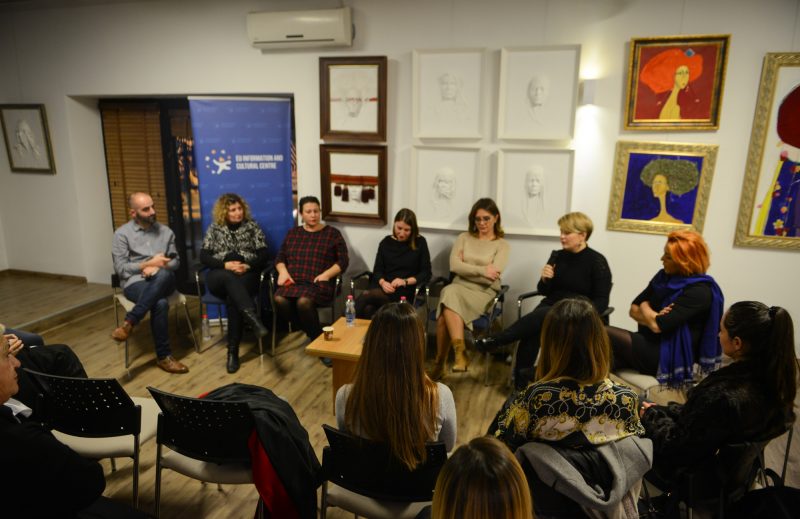 The women's month at EUICC continued on with films and a discussion panel with Kosovo's successful women
At the European Union's Information and Cultural Center, the beginning of December came with a focus on successful women in Kosovo's art and culture.
On December 3rd, 4th and 5th, various events brought Kosovar women into the spotlight, women who are leaders and directors of theater, film and music festivals, as well as hold the throne of the National Gallery of Kosovo, women painters and filmmakers who are giving more voice to the Kosovar women in general.
The European Union is thus again showing that assistance to art and culture in Kosovo is one of its priorities and will continue as such.
After December 3, when the exhibition "The Cry of Women's Silence" was opened, on December 4 the film "She" directed by More Raça was shown at the EUICC in Prishtina.
After the film, Vjosa Berisha – team leader at the EUICC, spoke to the audience with director Raça and the actors Aurita Agushi and Florist Bajgora.
During the discussion, Raça explained that as a director she feels obliged to present women's problems in Kosovo through her art and that her films always address problems related to women. The movie "She" speaks of domestic violence, while in a happy ending the daughter helps her mother get away from violence in the husband's house.
A day later, six women panelists came together at the EU Information and Cultural Center to talk about their impact on cultural diplomacy.
Most of the panelists and the festivals they organize have many times been beneficiaries of grants awarded by the European Union for culture and arts in Kosovo. 2.5 million Euro were given for arts and culture by the European Union to Kosovo since 2010.
Nita Deda – Dokufest, Vjosa Berisha – PriFest, Besa Luzha – Chopin Piano Fest, Arta Agani from the National Gallery of Kosovo, Zana Hoxha Krasniqi from FemArt and Donika Rudi from ReMusica spoke to the audience about the challenges they go through by being successful women and managing festivals that have a special importance in the cultural life in Kosovo.
Vjosa Berisha explained how cultural diplomacy takes place throughout the year and not just on the days when a festival is being held, since as the director she and others not only expect applications but also have to search for good films and lobby at various festivals for better film selection. Besa Luzha, on the other hand, explained that we should always be reminded that these women are ambassadors of art and culture in the world and therefore more support is needed for them.
Zana Hoxha Krasniqi said that it is necessary to recognize the contribution of these women to art and culture more while mentioning the fact that as a female and a woman she felt discriminated against and less appreciated, even financially, in her artistic projects.
The latest 'Culture for Change' program of the European Union allocated 230,000 Euro a few months ago for various organizations and artistic initiatives which will also help the community around them.